INSTALLATION OF WORDPRESS MAUALLY
Though you can install wordpress in just a click from your hosting account but,if due to some odd reasons you are not able to do it.
Here is the guide to do it manually..
STEPS YOU NEED TO FOLLOW–
1) Download WordPress from here: http://wordpress.org/download
2) Create a new folder on your desktop and unzip WordPress in it
3) Look for a file named wp-config-sample.php and rename it to: wp-config.php
4) Now open the wp-config.php (with notepad for example) and fill the following lines:
define('DB_NAME', 'database_name_here'); – Database name (if you don't know it, ask this from your hosting support)
define('DB_USER', 'username_here'); – Your hosting username
define('DB_PASSWORD', 'password_here'); – Your hosting password
After you have filled the gaps, save the file.
5) Now log into your hosting ftp (download FileZilla for that). The FTP address is usually ftp.yourdomain.com, username and password are the same that you used to register to your host.
6) If there is any file named "index" – delete it. After that upload all the files from your WordPress folder to your FTP server. I believe you can use "drag n drop" function in FileZilla.
7) Once you have completed the previous steps, go the URL: yourdomain.com/wp-admin/install.php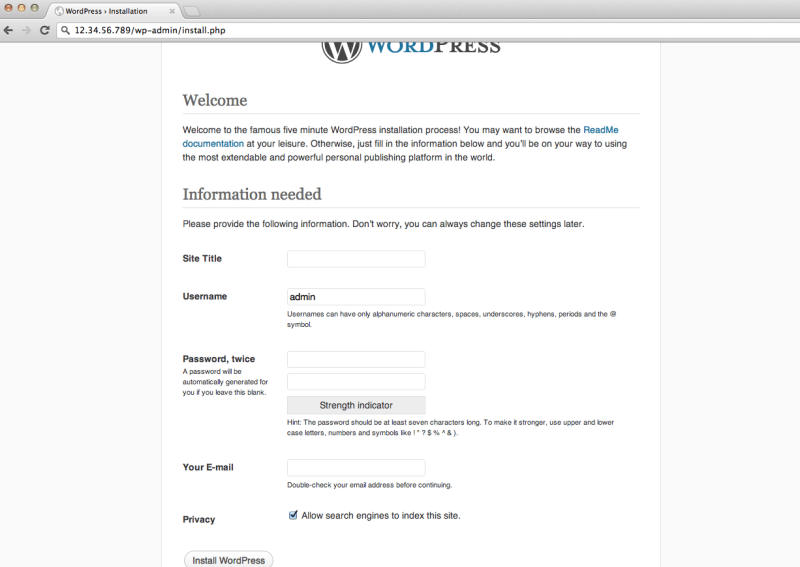 8)You will see a form here.just fill the parameters of the form and you will be done.
hope this article helped you in some or the other way.
IF YOU WANT A GUIDE TO USE THE WORDPRESS.MENTION IT IN THE COMMENT BOX BELOW.I WILL DFINITELY POST A ARTICLE ON THAT AS WELL.
Happy reading
Kirti 🙂